BENJAMIN HISTORIC CERTIFICATIONS
is a consulting firm specializing in historic preservation. With a focus on documenting and preserving the special character of both historic buildings and landscapes, architectural historian
Susan Benjamin
and her associates work on projects that ensure economic viability and the adaptability of historic buildings to modern living. Clients include homeowners, real estate developers, municipalities, local historical societies and other not-for-profit organizations in the Chicago metropolitan area.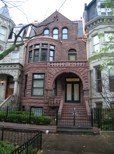 We are a Women's Business Enterprise (WBE) in Cook County, enabling us to serve government agencies and other public entities as well as private clients.
The following are services we provide:
Complete the application for homeowners to receive a Property Tax Assessment Freeze when they rehabilitate their historic home in accordance with preservation guidelines.


Complete the application for owners of income producing landmark buildings for them to receive a 20% Federal Income Tax Credit for rehabilitating their industrial or rental properties following preservation guidelines.



Write National Register nominations for individual historic houses, commercial buildings, landscapes and historic districts, frequently to take advantage of tax incentives and easement donations.
Write Local Landmark nominations for historic houses, often to to make them eligible for the State of Illinois Property Tax Assessment Freeze.



Prepare Historic Resource Assessments and Historic and Architectural Impact Studies (HAIS) for municipalities, developers and not for profits.



Team with planners, architects, attorneys and other consultants on preservation projects.


Lecture to organizations on a variety of topics relating to Chicago and North Shore architecture, landscape history and preservation issues.


Write articles, books and informational material; appear on local and national TV programs, including public television, House and Garden Television and segments of the Bob Vila show.