Historic Resource Assessments and Historic and Architectural Impact Studies (HAIS)
Historic Resource Assessments
Susan Benjamin and her associates have prepared a number of Historic Resource Assessments. These are documents that evaluate the historic and architectural significance of a property so that careful planning decisions can be made regarding its preservation.
What is in a Historic Resource Assessment?
It is a document that contains research on a property's history and architecture to determine its significance. It generally includes a description of the property and its significant features, a discussion of its history, a comparison with other buildings of its type and an examination of the building's architectural style in relation to similar examples. The assessment also typically includes historic and recent photographs, plans and a bibliography.
Why are Historic Resource Assessments needed?
So that local boards and commissions can make judgments on whether a building is significant and therefore worthy of preservation.
So that organizations, communities and individuals can make informed preservation decisions regarding what constitutes historic features that need to be preserved and what kinds of changes are appropriate. Research provided in the Historic Resource Assessment conveys needed information to make these decisions.
So that there is sufficient research completed in order to begin the application process for nomination to the National Register of Historic Places.
So that a preliminary determination of landmark eligibility can be written in order for a property to qualify for Federal Income Tax Credits.
To create educational and informational materials.
What does Benjamin Historic Certifications do to create a useful Historic Resource Assessment?
We do primary research on a building's ownership, investigate building permits, conduct interviews and we research information on the building's architect and architectural style. With an architectural historian, preservation planner and two preservation specialists on our staff we have the ability to produce a highly professional and handsomely-produced document.
When desired, we work with architectural firms experienced in preservation to create a more comprehensive Historic Structures Report, which governs the long-term preservation of a property.
What is our experience?
We have created several the City of Lake Forest. These have been used to determine whether a building is worthy of preservation and, if so, which are the most important historic features needing to be retained. Historic Resource Assessments have been completed for Elawa Farm, Grove School, a 19th century hardware store and several houses.
While a partner in Historic Certification Consultants, Susan Benjamin worked with LR Development to produce the Cultural Resource Management Plan, which governed the redevelopment of Fort Sheridan. She wrote the design guidelines for the historic buildings and the Fort's landscape.
Historic and Architectural Impact Studies (HAIS)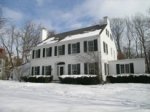 Benjamin Historic Certifications has prepared Historic and Architectural Impact Studies (HAIS) for the Village of Kenilworth and the Village of Winnetka. A HAIS is often requested by a building review or planning committee or commission when a demolition permit has been filed for a residence that, based on its date of construction or building style, may have historical or architectural significance. The committee or commission reviews the HAIS as they determine whether the demolition permit should be approved, denied or delayed.
Why is an HAIS needed?
So that the committee or commission is informed on the historic or architectural significance of a structure before determining a course of action for the property.
So as to evaluate the affect of a demolition on the surrounding streetscape and/or original subdivision platting.
So that if the building is approved for demolition, a record of historical changes to the residence, its chain of ownership, biographical information on its prior homeowners, and a detailed narrative description of the architectural style with photos exists. The study is kept on file with the municipality and/or the local historical society.
What does Benjamin Historic Certifications do to create a useful Historic and Architectural Impact Study?
Our research on the building and its historic homeowners is conducted using primary resources, including building permits, the original development and platting of the subdivision, historic archives, as well as articles in journals and both the City of Chicago and suburban newspapers.
Susan Benjamin and her associates are experienced in research and style identification. We will provide an accurate, thorough and engaging historical record of the property.