Susan Benjamin
Courtney Gray
Gwen Sommers Yant
Our Other Experts
---

SUSAN S. BENJAMIN is an architectural historian with a career that spans over 30 years in a broad variety of preservation activities. Ms. Benjamin practices as Benjamin Historic Certifications, LLC. Between 1992 and 2003 she was a founder and partner in Historic Certification Consultants, Chicago and Highland Park.
National Register: Ms. Benjamin and her associates have written more National Register nominations than any other firm in Illinois. She has researched and prepared many National Register nominations for individual buildings and historic districts, including the first multiple property listing in Illinois, for the city of Highland Park. Her recent historic district nominations have included the Lake Bluff Uptown Commercial Historic District and the Edward L. Ryerson Area Historic District in Deerfield. She has completed boundary extensions to National Register Historic Districts in Hyde Park-Kenwood, Lakeview, and Sheffield.
Susan and her associates have written numerous individual residential nominations, including the Adlai Stevenson Farm in Libertyville, the Deerpath Inn, Mrs. Kersey Coates Reed House and the Edward H. Bennett Estate in Lake Forest, the William McCormick Blair Estate in Lake Bluff, the Paul Schweikher House in Schaumburg and the Jens Jensen landscape for the A.G. Becker Estate in Highland Park. Her numerous nominations for apartment buildings include the Aquitania at 5000 Marine Drive, the Marshall Field Garden Apartments and a thematic nomination of 50 suburban apartment buildings in Evanston. The commercial and institutional buildings she has nominated to the Register include Oak Lawn School, the Hotel Waukegan and Karcher Hotel in Waukegan, the Mandel Brothers Warehouse, the Fairbanks Morse Building, the Oliver Building, the Chicago Club and the Quigley Preparatory Seminary in Chicago.
Local Landmarks: Susan and her associates have written numerous local landmark nominations for homes designed in a variety of architectural styles and types throughout the North Shore, the western suburbs and in the City of Chicago. Many were houses designed by prominent architects, including Howard Van Doren Shaw, Philip Maher, Samuel Marx, Mayo and Mayo, Bertrand Goldberg, James Nagle and others. Following the designation, tax incentives were often acquired for the property owners.
Tax Incentives: Preparing the necessary documentation for landmark property owners seeking the Illinois Property Tax Assessment Freeze or Historic Preservation Federal Income Tax Credit is a large part of her business. For over twenty years, Ms. Benjamin has obtained a property tax assessment freeze for numerous homeowners throughout the metropolitan area, especially on the North Shore. Clients have also included the developers of the condominiums at the Mayfair Regent on Lake Shore Drive, the Mandel Brothers Distribution Warehouse at 3256 N. Halsted Avenue, and former army buildings that have been converted into private residences and condominiums at Fort Sheridan. She also obtained Federal Income Tax Credits for rehabilitating income-producing buildings of all sizes—from duplexes to multi-use properties.
Preservation Projects: While a partner in Historic Certification Consultants, she worked with LR Development, preparing the "Historic Resource Management Plan" for the redevelopment of Fort Sheridan. In that capacity, she wrote a history of the fort and gave several lectures and tours on the fort's significance. With Ms. Benjamin writing the text, Historic Certification Consultants researched and wrote the text for a brochure, "A History of Ryerson Woods," published by the Friends of Ryerson Woods.
In her capacity as an architectural historian, she has prepared Historic Resource Assessments for the City of Lake Forest for Elawa Farm, Grove School and several individual residences. She has also written a Historic American Engineering Record report for Frank Lloyd Wright's Ravine Bluffs Development Bridge in Glencoe, Illinois, for the Village of Glencoe.
Talks, Tours and Miscellany: Ms. Benjamin frequently gives lectures and tours on Chicago and North Shore architecture and landscapes. Her many venues have included the Chicago Architecture Foundation, Landmarks Illinois, the Chicago Cultural Center, the Arts Club of Chicago, the Renovation and Restoration Conference in Chicago, the Lake Forest Preservation Foundation, the Highland Park and Winnetka Historical Societies, Rotary clubs in Wilmette and Highland Park, the Cliff Dwellers Club, the Lake Forest Garden Club, the National Trust for Historic Preservation, the Association for Preservation Technology and others.
She has prepared oral histories on John Holabird and Wilbert Hasbrouck for the Architecture Department of the Art Institute of Chicago. Many programs on WTTW, HGTV and other stations have included interviews with her. She has appeared on Chicago Tonight, in a program on the life of Julius Rosenwald and on two segments of "Home Again" with Bob Vila. She is frequently quoted in North Shore Magazine, in the Pioneer Press, the Chicago Tribune and other publications. Susan is the author of two books for Acanthus Press, New York, with architect Stuart Cohen. She has been an Adjunct Professor at Barat College in Lake Forest, Illinois, teaching historic preservation and has team taught at the School of the Art Institute of Chicago on "Preserving the Recent Past." Working with a retired Highland Park school teacher, she assembled material to introduce preservation into the community's third grade curriculum.
Volunteer Activities: Her volunteer participation includes serving as an honorary board member of the David Adler Cultural Center and on the Board of Advisors of the Mayslake Landmark Conservancy. She has been a member of the Board of Directors of Landmarks Preservation Council of Illinois, the Highland Park Associates of the Art Institute of Chicago and the Highland Park Historical Society. She served as first chairman of the Highland Park Historic Preservation Commission and remains an advisory member. She serves on the building committee at Ragdale, Lake Forest.
Education: Ms. Benjamin holds a BA in Art History from Brown University and an MA in Art History from the University of Minnesota.
PUBLICATIONS:
North Shore Chicago: Houses of the Lakefront Suburbs. New York: Acanthus Press, 2004.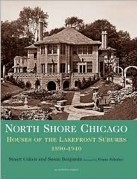 Great Houses of Chicago, 1871-1921. New York: Acanthus Press, 2008.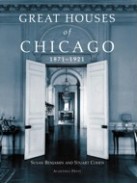 David Adler: The Elements of Style. The Art Institute of Chicago and Yale University Press, 2002. Wrote essays on the Mrs. Carolyn Morse Ely House and the Mr. and Mrs. David Adler House.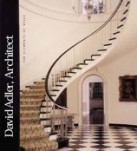 An Architectural Album: Chicago's North Shore. Evanston: Junior League of Evanston, 1988. (editor)
Winnetka Architecture: Where Past is Present, A Guide to Timeless Styles. July, 1990. (editor)
North Shore Home and Decor. "Wright Among us on the North Shore," April, 1992; "Historic Inn Nominated for Registry," April 28, 1992.
Eleven Magazine. "Can Chicago Preserve Its Architectural Heritage," November, 1996; "Ocean View," June, 1991; "Building from History," May, 1990; "Building a Tradition: The North Shore's Architectural Heritage," November, 1989.
Inland Architect. "Underage Landmarks," January, 1988.
Historic Illinois. "Chicago's Fairbanks, Morse and Company Headquarters," June, 1989; "Highland Park's A. G. Becker Estate," April, 1987; "Evanston's Suburban Apartment Buildings," February, 1985.