Landmark Nominations
Benjamin Historic Certifications frequently prepares both National Register and local landmark nominations.
What are the benefits of Landmark Designation?
Recognizes and showcases the significance of an historic property.
Makes property eligible for tax benefits. Benjamin Historic Certifications often prepares Property Tax Assessment Freeze or Federal Income Tax Credit applications for owners of properties the firm has landmarked.
Confers prestige and community pride-and that can increase property values.
Carries with it the possibility of financial benefits such as an easement donation, a building permit waiver or a Class L Designation in the City of Chicago.
What kinds of landmarks are there?
There are two ways of landmarking properties:
Listing buildings on the National Register of Historic Places
Listing buildings as Local Landmarks, which are created by an ordinance in a community that has a preservation ordinance and preservation commission
What is the difference between being listed on the National Register or listed as a local landmark?
The Country's official list of significant properties, carries considerable prestige.
Carries with it no restrictions unless owners take advantage of tax benefits.
Alterations and demolitions are NOT reviewed unless there is a Federal undertaking (like building a Federally financed road) likely to have a negative effect on the listed building.
Makes building eligible for both the Property Tax Assessment Freeze and Federal Income Tax Credits.
Makes building eligible for an easement donation, which offers landmark property owners a substantial Federal income tax deduction. A building must be listed on the National Register, either individually or as a contributing building in a Historic District, to be eligible for the easement donation. Individually-listed locally designated buildings are not eligible for Federal Income Tax Credits.
Susan Benjamin and her staff have written more National Register nominations than anyone else in Illinois, They write nominations in Chicago, the suburbs and downstate.
Recognizes and showcases the significance of a historic property locally.
Makes building that is individually listed or building that is a contributing building in a locally designated Historic District eligible for the Property Tax Assessment Freeze.
Makes a building in a locally designated Historic District that is approved for purposes of taking tax credits eligible for Federal Income Tax Credits.
Is less complex and less work and can be accomplished more quickly than listing a property on the National Register.
Makes commercial and industrial buildings, not-for-profit and multi-family residential buildings, offices and hotels in Cook County eligible for the Class L Property Tax Incentive, which reduces the property tax rate of the building for 12 years. It can be renewed in year 10 for another 10 years.
Waives all building permit fees in the City of Chicago and certain other communities.
When a building is a locally designated Landmark, the Preservation Commission typically reviews a defined range of EXTERIOR alterations requiring a building permit or a proposed demolition. Most commissions are primarily concerned with changes that are visible from the street. Local designation in some communities offers greater protection.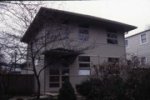 SUSAN BENJAMIN and her staff have prepared dozens of nominations for homes to be designated as local landmarks throughout the Chicago metropolitan area. These nominations have included houses designed in Arts and Crafts, Historical Revival and modern styles. Bungalows, estate houses and their outbuildings and award-winning Modernist homes have all been designated local landmarks because of nominations created by Benjamin Historic Certifications. Chicago, Evanston, Wilmette, Winnetka, Glencoe, Highland Park, Lake Forest, Oak Park, River Forest, Hinsdale, Glen Ellyn, Naperville and numerous other communities all have ordinances authorizing the designation of local landmarks.
How do I know if my property is eligible for Landmark designation?
Generally, a building is eligible for either local or National Register listing if it has had relatively few alterations, was built over fifty years ago (unless it is a particularly noteworthy building designed by a significant architect), and it meets one or more of the following criteria:
Its association with an important historical event
Its association with a person who helped shape history
Its architectural significance as an excellent example of an architectural style or building type
Its significance as the work of an important architect
Its high artistic value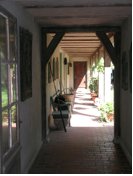 A potential landmark can have local, state or national significance. Some local ordinances are written so that a home less than 50 years old is eligible for local designation. To be eligible for listing on the National Register, a potential listing must have exceptional significance.
A call or e-mail to Susan Benjamin will help determine if a property is eligible for either local or national landmark listing. She can advise on which type of designation is more desirable.
Why should I hire Benjamin Historic Certifications?
No firm has had more experience listing landmarks. Susan Benjamin and her associates have prepared nominations for single family homes, apartment buildings, hotels, town halls, farms, schools, churches, commercial and industrial buildings, clubs and designed landscapes.
The combined years of experience adds up to well over a half century of considerable expertise.
The nomination they provide is thoroughly researched, filled with interesting and important historical information and will be completed in a timely fashion, following proper requirements.
Members of the firm have a long, excellent working relationship with local communities and the State Historic Preservation Office (SHPO).
Properties Listed on the National Register
by Susan Benjamin and her Associates
Susan Benjamin and her associates have written more than 100 nominations to the National Register of Historic Places for a variety of buildings types with historic and architectural significance. This includes the nomination of over 70 individual buildings as well as many historic districts and boundary extensions to historic districts, thematic and multiple property nominations.
Clients have included municipalities, not-for-profit organizations, architectural firms, real estate developers and homeowners; many received tax benefits due to the listing. All nominations are reviewed by the Illinois National Register Coordinator and approved by the Illinois Historic Sites Advisory Council, State Historic Preservation Office (SHPO), and the National Park Service.
COMMERCIAL BUILDINGS
BELMONT-SHEFFIELD TRUST AND SAVINGS BANK BUILDING, 1001 W. Belmont Ave. Chicago, IL
A Classical Revival style bank building rehabilitated for use as a restaurant and apartment building.
COLEMAN HARDWARE COMPANY, BUILDING, 100 Nettle Street. Morris, IL
Historically significant in the commercial and transportation history of Morris.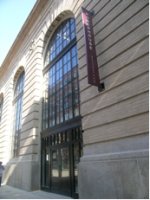 CHICAGO AND NORTH WESTERN RAILWAY POWER HOUSE, 211 North Clinton. Chicago, IL
A Renaissance Revival building, designed in 1911 by Frost and Granger that originally powered the train station for the railroad company. It was rehabbed to house a restaurant and offices.
DEERPATH INN, 255 E. Illinois Road. Lake Forest, IL
A Tudor Revival Country Inn that is currently a National Trust Hotel.
FAIRBANKS MORSE & COMPANY BUILDING, 900 S. Wabash. Chicago, IL
Important architecturally and in the history of the diesel engine industry. Converted to apartments.
HOTEL WAUKEGAN, 102 Washington, and KARCHER HOTEL, 405 Washington. Waukegan, IL
Two hotels that were important in the commercial and social history of Waukegan.
JOHN GRIFFITH STORE BUILDING, 103-113 East Scranton Avenue. Lake Bluff, IL
Small Colonial Revival commercial block designed by noted Lake Forest Architect, Stanley Anderson.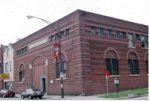 MANDEL BROTHERS WAREHOUSE, 3254 N. Halsted Street. Chicago, IL
Commercial dry goods distribution warehouse designed by Holabird & Roche. Converted to condominiums.
OLIVER TYPEWRITER BUILDING. 159 N. Dearborn Street. Chicago, IL
Chicago School of Architecture Commercial Block designed by Holabird & Roche.
SINGLE FAMILY RESIDENCES
ADLAI E. STEVENSON, II, FARM, 25200 North St. Mary's Road. Mettawa/Libertyville, IL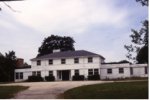 Significant as the home of the American statesman who served as Illinois Governor, ran for United States President and served as U.S. Ambassador to the United Nations. The house is a highly unusual example of an International Style/Moderne/Prairie Style residence designed by Perkins, Wheeler & Will, Chicago. The house currently serves as The Adlai Stevenson Center on Democracy.
DAVID ADLER HOUSE, 1700 N. Milwaukee Ave. Libertyville, IL
Significant as the estate of David Adler, Chicago's foremost country house architect of the period; the house now serves as a cultural center.
MRS. ISAAC D. ADLER HOUSE, 1480 North Milwaukee Ave. Libertyville, IL
Dutch Colonial Revival House remodeled by architect David Adler for his mother. Nominated because of its high artistic value as a representative example of Adler's interpretation of Colonial Revival architecture.
A.G. BECKER ESTATE, 405 Sheridan Road. Highland Park, IL
Nominated for its historic 1921 landscape designed by Jens Jensen. It is significant for its stonework and for having the last remaining intact meadow, a characteristic Jensen design feature, in the Chicago area.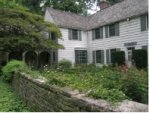 WILLIAM McCORMICK BLAIR HOUSE, Sheridan Road. Lake Bluff, IL
Country estate, including tennis house; currently part of Crab Tree Farm. The house is a distinctive example of the Colonial Revival style designed by David Adler, preeminent country house architect of his generation. Garden by Ellen Biddle Shipman.
ANITA WILLITS BURNHAM LOG HOUSE, Crow Island Woods. Winnetka, IL
Log house built c. 1841 significant as the home of noted local artist, author and world traveler. Currently a house museum managed by the Winnetka Historical Society.
MRS. CAROLINE MORSE ELY HOUSE, 111 Moffett Road. Lake Bluff, IL
A Renaissance Revival country house modeled after the Louis XV manor house "La Lanterne" outside Paris. Designed by Chicago's premier estate architect of the period, David Adler, in 1923.
ABRAHAM GROSBECK HOUSE, 1304 W. Washington Boulevard. Chicago, IL
An 1869 Italianate townhouse designed for an early Chicago doctor.
NOBLE JUDAH ESTATE, 111 W. Westminster Street. Lake Forest, IL
A Norman French Revival estate with a significant landscape; house designed by Philip Goodwin, architect for the Museum of Modern Art in New York.
ROBERT PATTERSON LAMONT HOUSE, 810 South Ridge Road. Lake Forest, IL
One of the finest works of country house architect Howard Van Doren Shaw. It is significant in the history of country house architecture in Lake Forest.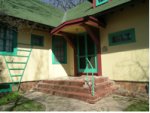 LOLA MAVERICK LLOYD HOUSE, 455 Birch Street. Winnetka, IL
Unusual Arts & Crafts style bungalow with Swedish elements, designed in 1920 by Swedish sculptor/architect Charles Haag for social activist Lola Maverick Lloyd, who is particularly known for her efforts toward world peace.
JOHN ROGERSON MONTGOMERY HOUSE, 15 Old Green Bay Road. Glencoe, IL
Blending of Georgian Revival architecture, with influences from the Arts & Crafts movement, as interpreted by noted country house architect, Howard Van Doren Shaw.
CHARLES N. RAMSEY/HARRY E. WEESE HOUSE, 141 Kenilworth Avenue. Kenilworth, IL
Excellent Arts & Crafts Foursquare, built in 1908. Weese was the father of architects Harry and Benjamin Weese. Family lived there from 1919-1942.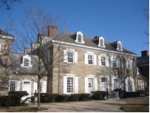 MRS. KERSEY COATES REED HOUSE, 1315 North Lake Road. Lake Forest, IL
Designed by David Adler in 1931-32 as an estate house combining the disciplined classicism of Georgian Revival architecture with the sophisticated simplified styling of Art Deco. It contains many original furnishings selected in collaboration with Adler's sister, noted interior designer Francis Elkins.
PAUL SCHWEIKHER HOUSE AND STUDIO, 645 S. Meacham Road. Schaumburg, IL
Home and studio of significant residential architect, Paul Schweikher, former chairman of the Yale School of Architecture. Owned by the Village of Schaumburg, though it remains home to noteworthy artist Martyl Langsdorf.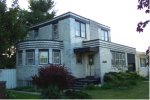 ROBERT SILHAN HOUSE, 3728 South Cuyler. Berwyn, IL
Constructed in 1937 and designed by the original homeowner and his son, it is an unusual and significant example of an Art Moderne bungalow.
FRANCIS STUYVESANT PEABODY ESTATE, "Mayslake", 1717 W. 31st Street. Oak Brook, IL
The retirement estate of a prominent coal magnate. Designed by Benjamin Marshall of the prolific Chicago architectural firm of Marshall & Fox. Owned by the DuPage County Forest Preserve.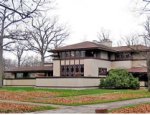 WARD W. WILLITS HOUSE, 1445 Sheridan Road. Highland Park, IL
Built in 1901, this Frank Lloyd Wright-designed residence is considered Wright's first masterpiece from among his Prairie houses. It influenced many subsequent designs by Wright and his followers.
MULTI-FAMILY RESIDENCES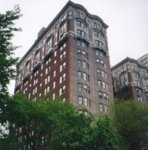 AQUITANIA, 5000 Marine Drive. Chicago, IL
Fifteen-story luxury courtyard apartment building designed in the Classical Revival style by Harris and Jillson, with an Art Moderne lobby. The property was developed by George K. Spoor, co-founder of Essanay Studios, producer of may early motion pictures. This Cooperative Building received the Property Tax Assessment Freeze.
BELMONTE FLATS, 4257 S. King Drive. Chicago, IL
An eight-story, Queen Anne Style, multi-family building designed by Patton & Fisher in 1893, it was rehabilitated using historic and low income tax credits by East Lake Management Company.
MARSHALL FIELD GARDEN APARTMENTS, 1336-1452 N. Sedgwick Street, 1337-1453 N. Hudson Ave., 400-424 W. Evergreen Street, and 401-425 W. Blackhawk Street. Chicago, IL
Originally built as affordable housing, it is composed of 10 buildings around a central courtyard. It is one of only two similar Garden apartment complexes in Chicago. The buildings have been rehabilitated by Dubin Dubin and Moutoussamy using both historic and low-income tax credits.
THEMATIC NOMINATION TO THE NATIONAL REGISTER OF HISTORIC PLACES FOR 50 APARTMENT BUILDINGS. Evanston, IL
A large concentration of high-quality courtyard-type apartments designed to provide the amenities of fine private homes to their residents.
MUNICIPAL BUILDINGS
COOK SCHOOL, 9526 S. Cook. Oak Lawn, IL
The oldest historic school building in the Village of Oak Lawn, it was restored for Park District office use.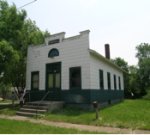 LYONS TOWNSHIP HALL, 53 S. LaGrange Road. LaGrange, IL
A Classical Revival Township Center.
DAVIS JUNCTION TOWN HALL. Davis Junction, IL
Center of community activity in Davis Junction from 1877 to 1958. Only municipal structure left in the small village that once was a burgeoning railroad town near Rockford, IL.
INSTITUTIONAL BUILDINGS
MIDWEST ATHLETIC CLUB BUILDING, 6, N. Hamlin Street. Chicago, IL
A former social club converted to residential use.
CHICAGO CLUB, 81 East Van Buren. Chicago, IL
Founded in 1869, the Chicago Club was established as a social and business club by Chicago's movers and shakers. Early members included George Pullman, Marshall Field and John Crerar. It remains one of the city's most prominent clubs.
QUIGLEY PREPARATORY SEMINARY, 103 East Chestnut. Chicago, IL
A Catholic school on the Near North side of Chicago whose chapel, which was modeled after Sainte Chapelle in Paris, has richly detailed stained glass windows.
WINNETKA COMMUNITY HOUSE, 620 Lincoln Avenue. Winnetka, IL
Tudor Revival building that has served as the center of Village activity since 1911, containing a gymnasium, studios for the North Shore Art League AND nursery school rooms.
HISTORIC DISTRICTS AND MULTIPLE PROPERTY NOMINATIONS
INDIAN HILL MANOR AND FARM HISTORIC DISTRICT. Rockford, IL
Architecturally significant as the country retreat of a Chicago businessman.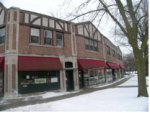 LAKE BLUFF UPTOWN COMMERCIAL HISTORIC DISTRICT. Lake Bluff, IL
The entire business district of the North Shore suburb of Lake Bluff is a Historic District. Its small scale presence includes Colonial Revival and Tudor Revival buildings that reflect the character of the northern suburbs smallest community.
LAKEVIEW HISTORIC DISTRICT BOUNDARY EXTENSION. Chicago, IL
A dense urban neighborhood which is located on the north side of the city of Chicago and reached residential maturity in the 1890s.
RAVINIA PARK, THREE RESIDENTIAL HISTORIC DISTRICTS, AND 36 INDIVIDUAL BUILDINGS IN HIGHLAND PARK. Highland Park, IL
One of the historic districts features many houses designed by George W. Maher. Individual listings include buildings designed by Frank Lloyd Wright, John Van Bergen, Ernest Grunsfeld, Arthur Heun, Henry Dubin, Tallmadge and Watson, Robert Seyfarth, Howard Van Doren Shaw, and landscapes designed by Jens Jensen.
EDWARD L. RYERSON AREA HISTORIC DISTRICT. Ryerson Conservation Area, 2950 Riverwoods Road. Riverwoods, IL
Historically and architecturally significant as the country retreat of one of Chicago's most important industrialists.
SHEFFIELD HISTORIC DISTRICT BOUNDARY EXTENSION. Chicago, IL
A dense urban neighborhood on the near north side of the city of Chicago developed immediately after the Chicago fire of 1871 through 1904.
VILLAGE OF MAYWOOD. Maywood, IL
A multiproperty nomination of seventeen significant residential and municipal buildings in the Village of Maywood.